Moon Down are pleased to welcome John Wright, an acknowledged expert and author in foraging for wild food.
John has written:
Mushrooms: River Cottage Handbook No 1
Hedgerow: River Cottage Handbook No 7
Edible Seashore: River Cottage Handbook No 5
Booze: River Cottage Handbook No 12

http://www.wild-food.net

John runs foraging courses at River Cottage in South East Devon, at the Kingcombe Centre in West Dorset and on the New Forest, so we are especially pleased that John has agreed to run two mushroom foraging courses for us in the South East.
In the Press:
John Wright interview with Samantha Day on Meridien FM
Article in Kent on Sunday. Click here »
Read Courier reporter Lee Moran's article on the 2011 mushroom foraging course. Click here »
The cost is £90.00 per day
Wednesday 16th October 2019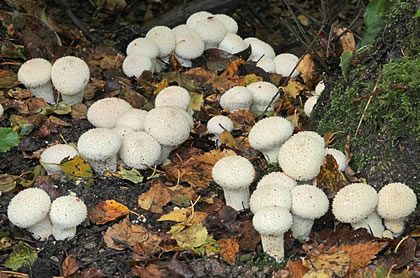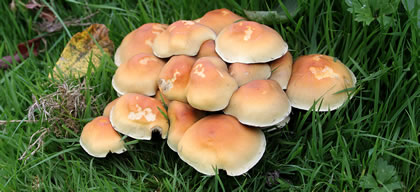 A typical day's programme to include all refreshments and substantial 3-course lunch with wine.
| | |
| --- | --- |
| 10.00 am | Meet at Moon Down – Tea/Coffee & biscuits |
| 10.30 am | Let the foraging begin! |
| 1.30 pm | Jo, from Naked & Ready will prepare a delicious 3-course lunch, which will hopefully include some of the morning's foraged mushrooms. Lunch will be served with wine. |
| 3.00 pm | Time to take a closer look at the morning's finds with John followed by a Q&A session. |
| 4.30 pm | Afternoon Tea with homemade cake. |
| 5.00 pm | Time to go home… |
What do I need to bring?
You only need to bring yourself, dressed appropriately for a day's foraging, so stout boots or shoes teamed with warm and weatherproof clothing.

Wear layers as the weather can be changeable and foraging will go ahead, wind, rain or sunshine!
What I don't need to bring?
Sorry no children under 16 or dogs.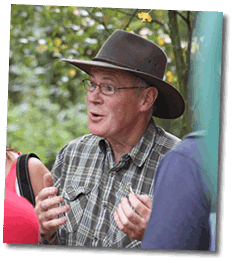 "I have been taking mushroom forays at Moon Down for 6 years now and it has never disappointed. My October 2016 foray was no different with an amazing 53 species found. It is the enormously varied habitats that allows such a large number of species - wood chip, some exceptional "poor" acid grassland, pines, birch, oak and the type of habitat that can only be described as 'marginal/disturbed'. All have their associated fungi, some of which are quite rare. And Moon Down also sports a large number of edible species such as the Penny Bun, Chanterelle, Saffron Milkcap, Fairy Ring Champignon, Puffballs, edible Boletes, Field Mushrooms and many more. Places with such a rich abundance of fungi are not that common and Moon Down is a mycological treasure."
John Wright